<!Page setup Black Text on White Background, Blue Links, Purple Visited Links & Lime Active Links.> <!p>

Office Hours : Monday to Friday, 12 noon to 4 p.m. UK Time, excluding UK Public Holidays.

<! Impliment a link to current UK Time - preferably find a way to do it from the web server - else find a service that provides a time display or output> <! Impliment a link to a time zone calculator for all countries of world - some thought required as to how to accomplish this> <! Impliment a link to UK Public Holidays either elsewhere or as a page on this site. If on this site, it will have to show two years of public holidays at a time and be updated once a year. This is so that around the end of a year, customers can still plan purchases ahead into the next year.>
---
Rudolph, the Red-Nosed Reindeer :
For fun, personal, or commercial use.


Ideal for school, exhibition, fete, park, garden, or private display, party, or prop.


Think of those hours of imaginative play,
A hit with children, elves, fairies and Santa.
Keep the class happy and occupied in breaktimes
or share with passers-by.

This hand-carved ornament is equally at home as a supervised toy or talking point, in the playroom or outside.

Adds an extra touch to plays at school, club, theatre, park or private performance.

Would also make a novel Gift for that friend who has everything.


<!br>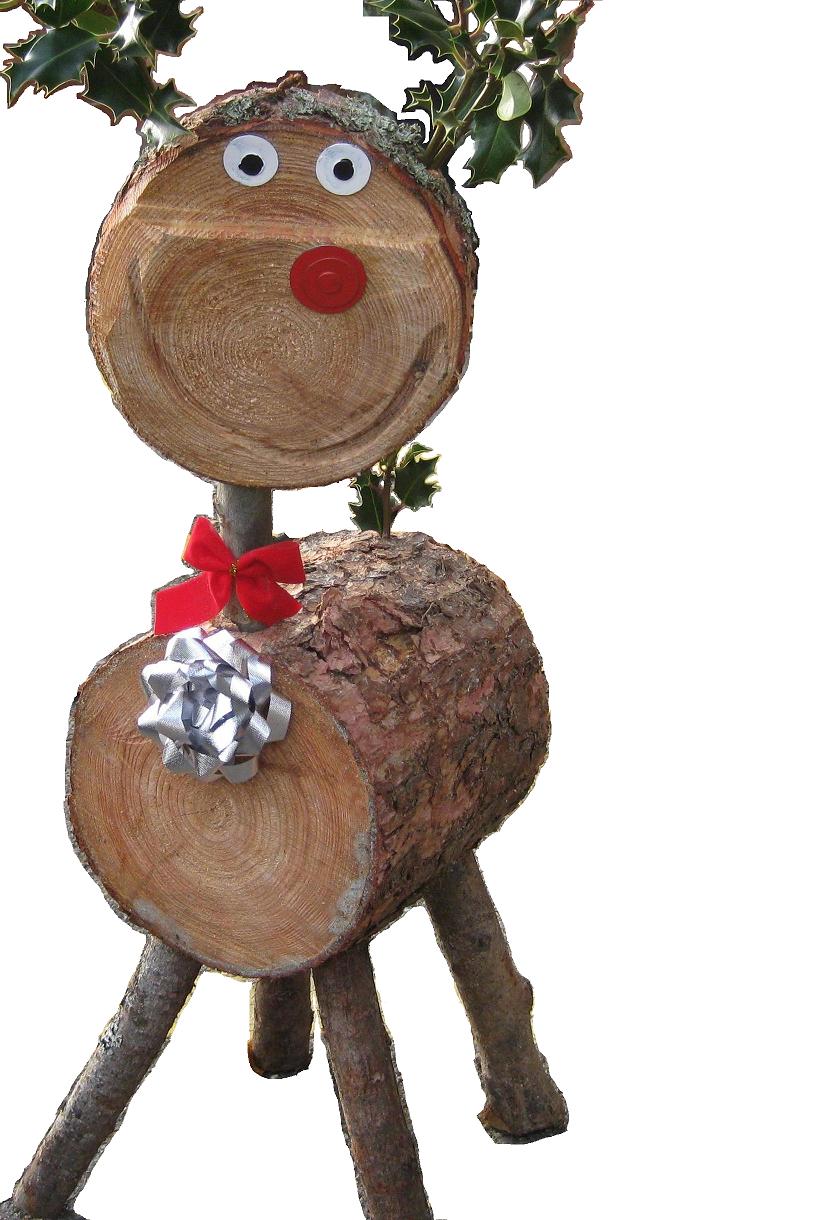 Dimensions of Figure :
Height : Approximately 23-30 inches (excluding antlers which vary more widely)
Length : Roughly 6-11 inch body length
Width : varies enormously between about 5-11 inches (trunk width) and about 8-16 inches (leg to leg width)
Weight : varies between about 5 and 11 kilos (Luck of the Draw)
Measurements vary between every item
due to trees used, each 'Rudolph' is unique.
---
<! Don't be shy - > Come and Meet him :


Rudolph, the Red-Nosed Reindeer is adorable in this wooden form,

Hand-Carved from natural materials for authentic yuletide feel.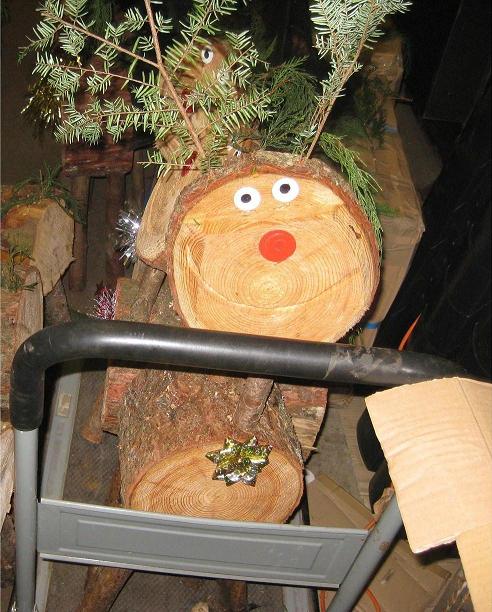 <!Don't be shy -> Come and Rescue <!him> a Rudolph
from the production line !



<!td><!/td>
Each is a Unique item
- possessing artistic value as a sculpture, ornament or keepsake


- as the components used (tree trunks, branches and leaves) do vary.


<!td><!/td>
Ideal for
- Display or decoration
in Garden, Hall, Playground, or School, or around Xmas tree


- Accompanying Santa on his travels or while seated in his grotto or Shopping Mall.


- That last minute surprise present or gift


- A magical festive atmosphere


- Brightening up the Office or Parties, Fetes & Functions.






<!-> This delightful companion will bring a smile to your face, children or audience of any age.


Bringing Together Kids & Adults, Friends & Family, at that special time of year.






We gave one of these cute Rudolphs to a local charity,

the Storehouse Community Centre (http://www.storehouse.org.uk), for their 2011 Arts Week festival.




---

You may also be interested in our :
---



<! Changed size from 6 to 4 because it is no longer a main title> Price List <!- With Spare Temporary Table - just incase any is useful>

We're currently doing a special!
Normally £15 pounds - but now £10!
no minimum order required

| DESCRIPTION | MODEL | PRICE | QUANTITY |
| --- | --- | --- | --- |
| Large Reindeer (Variable Dimensions) | RUDOLPH | £ 14.99 each | For 1 to 9 |
| "" | "" | £ 13.49 each | For 10 to 25 |
| "" | "" | £ 11.99 each | For 26 to 50 |
| "" | "" | £ 10.00 each | For 50 to 75 |
| "" | "" | CONTACT US | For 76 Or More |
Please note all prices are quoted in UK pounds due to currency fluctuations.
For other currencies please enquire.

<!Please also note the above prices do not include V.A.T. (Value Added Tax) of 17.5%> <!which is required for customers within the UK & European Union.> <!br> <!Customers outside the European Union do not have to pay V.A.T.> <!br> <!V.A.T. is a government-levied tax over which we have no control.>

Please enquire for shipping.

<! Leave in as exclamation mark comment : Note the 'r' in 'for' doesn't come out properly on the work printer, but I've decided to leave the centering as it is, because - in this case - it seems to work or read better by the browser adjusting its own centering & everything on a printout is still readable/makes sense without the letter 'r' in the word 'for'. Still would be advisable to test the page on a range of different printers just to be absolutely sure. >

---




<! Changed size from 6 to 4 because it is no longer a main title> Other <!Related> Pages of Interest :

- Other Gifts

- Other Hand-Carved Products

- Other Ornaments

- Other Playground Products

- Other Props

- Other Seasonal Products

- Other Wooden Products

- Other Products & Services

- Other Catalogues and Leaflets

- About Us & Company History

- Contact Us

- News

- Visiting Us

<! Decided to keep two center segments independent of each other incase it helps organisation with later editing >



Thank you for browsing.
©Akeron (UK) Ltd 2014
| | |
| --- | --- |
| Reg. No. 624709 | VAT NO. 247 8638 19 |